Towards the end of last year, I wrote: "What My History With Eating Disorders Taught Me for 2018" where I openly discussed my controversial and noncommittal relationship with my appearance. Much of what I wrote resonated with our readers. In a society that stresses the importance of looks, no matter how confident one is, it is basically impossible to get by unscathed.

So, aside from societal pressures and possible vanity, why do we care about how we look? Is it superficial to care? For many of us, when we look better, we feel better. But this, of course, is not an absolute. And it's incredibly subjective. When I look at myself and see "frizzy hair" someone else may see beautiful curls. I cannot tell you how many tall, straight haired beautiful women have told me they wish they had my curls and my more "petite" frame. I laugh and said I often wish the opposite.

I know I am not alone in this; we often want what we don't have. So what it really has to do with is confidence. Do you feel good about how you look? If there was something you want to change and you could, would you? But what about fully accepting oneself? How can I say in one breathe "I am going to accept all of my perceived flaws" yet then take steps to change what I don't like?

In my posting about eating disorders, I mentioned that I want to embrace my curls especially since I have a daughter with a cascade of beautiful blonde curls. Yet, for me, my hair length has bothered me of late. Throughout my 20s and early 30s, my curls were long. But my hair does not grow the way it used to. And, for some reason, its a sore spot to a point where if someone says "did you get a haircut" and I haven't I want to bark at them "NO I DID NOT". It doesn't seep into everything I do; but I know that before I go out, before I teach, and definitely before I take photos or go live on video I am thinking about "how does my hair look" which in turn, could result in a shift- even ever so slight- in my energy.

Enter Monica Hahn Photography

I met Monica Hahn through my newly hired Brand Manager, Monica Kline of IDentity Brand Management. We started off with a photo shoot for Sophia. Monica isn't your regular photographer; not only is she incredibly talented, but through her patience, passion, and dedication she makes it an experience. Digressing for just a moment, the irony of Sophia's photo shoot was, Sophia with her always perfect curls woke up with matted "birds nest" hair the morning of the photo shoot, as we were just back from Mexico where her mother didn't do the best job of combing her hair every day (always moms fault). Having never met Monica and wanting to be respectful of her time, I called her in a panic. Monica calmly told me she had the day booked for us; she wanted us to be relaxed and happy so to take our time, fix the hair, and get there when we could.

Sophia- age 5 and three quarters- was a natural. No hangups about hair, weight, body, skin....she was all in. For four hours, we switched outfits- often by her choosing- and while Monica encouraged her by asking "what her favorite song/movie/Disney princess is/are", it did not take much to get Sophia to express herself exactly how she wanted to.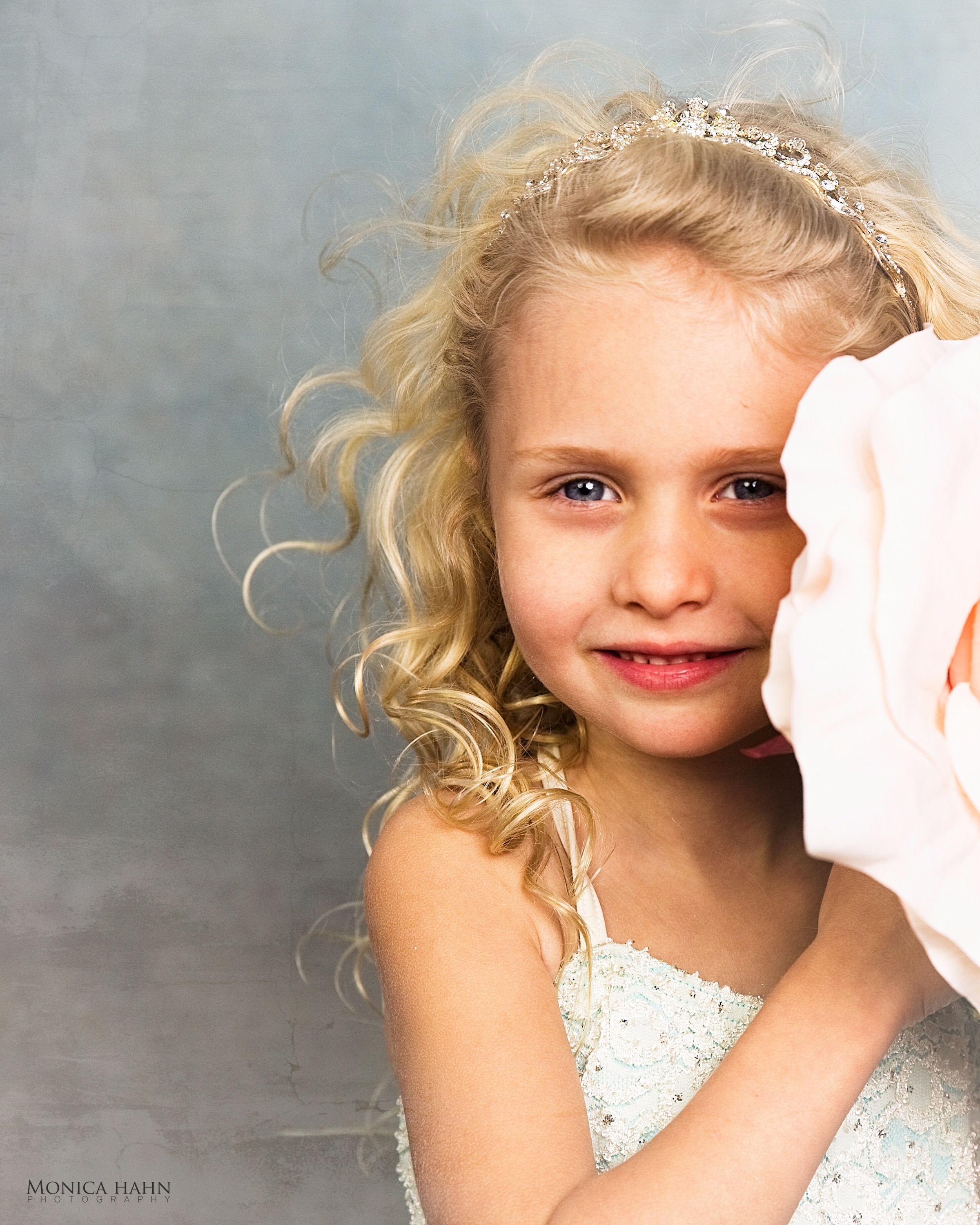 When it comes to adults, however, we have our hangups; our insecurities. Whatever they are, they can prevent us from being the most authentic version of ourselves. Getting us out of our head and in the moment can be a real challenge.

Before my own photo shoot with Monica, I was honest. I told her that I don't love how I look in photos. My hair isn't as long as I would like it, I don't know how to pose and seem to always look awkward or what I hoped was a bad angle. It's because I feel self-conscious. And to prove my point on the importance of confidence - before my shoot with Monica- the best photos I took were either fitness professional ones, where I was confident and in my element- or candid ones at events where I was happy and engaged. But posing for the camera in glam wear? I was always in my head.

My "Mini" Make-over

When I mentioned my hair issue, Monica suggested hair extensions. Circling back to my feeling that I should learn to accept myself completely I wasn't sure. But when Monica (photographer) and Monica (brand manager) introduced me to Jennifer Park, hairstylist based in Newport Beach but who was coming to NYC the following week, it all came together. Jennifer, just as passionate, thorough, and talented in her hair styling as Monica in her photography, paid so much attention to the details that when I look at myself now, it feels natural and just like the hair I had years ago.
Why did I do a photo shoot? At first, the idea behind it was to take some new photos for my website. But when Monica and I got to talking, I realized I already had so many photos in fitness clothing. Rarely do I ever get to get all dressed up anymore, and I have never done a photo shoot for myself "just because."

A photo experience with Monica is truly one-of-a-kind. She books the entire day for you, and the lead up you talk about what you want to wear; you go on Pinterest to exchange ideas and images, and she will tell you to pack as much as you want for the shoot (for both Sophia and myself I showed up with a suitcase). In the very beginning of our session, it took some time for me to get out of my shell. But with some coaching and encouragement, anything that was in my head went away, I was completely present, engaged, and not self-conscious. In essence, I felt like a model for a day.

For You: 30 Days of Fitness and Beauty for $180

For 30 days, join Laura Kovall online during this low pressure, high energy motivational work out every morning. Get INSPIRED. Get MOTIVATE. Get FIT! This includes an upfront conversation and consultation on your fitness and wellness goals, and check-ins throughout the 30 days to keep you on track for feeling like the best version of yourself.

At the end of your 30 days, you will have an unforgettable experience with Fashion & Beauty photographer, MONICA HAHN. Enjoy a pampering experience with beautiful MAKEOVER, dreamy Studio Style WARDROBE, and fully guided PHOTO SHOOT. This is a fun day to express exactly who you are in the most beautiful light you have ever seen yourself in.

To claim: email either Laura@thefitco.nyc or Monica@monicahahnphotography.com